A cousin I've been in contact with sent me the following earlier today: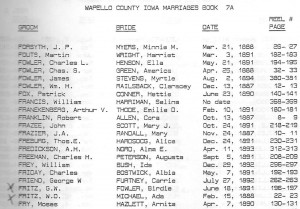 I already knew when George Fritz and Birdie Fowler married, but found it interesting to see another Fritz on there. I've already accounted for all the Fritzes in my line from around there (assuming George's uncle Johann Josef didn't marry and have children before he was murdered).
So, this W.D. Fritz is an unrelated Fritz, right? I have reason to wonder.
The first thing to do was to figure out who this W.D. Fritz was. Using FamilySearch, I was able to piece together the following family:
Father: John Fritz
Mother: Ann Dunnington
Child: Mary L. Fritz (born about 1857, married George A. Hillburg in Lorah, Cass, Iowa on 21 Mar 1894)
Child: Sarah Ina Fritz (born about 1861, married Henry B. Madison in Shelby, Iowa on 20 Jun 1888)
Child: W.D. Fritz (born about 1866, married Ada Michael in Ottumwa, Iowa on 15 Feb 1888)
Child: John Harvey Fritz (born about 1871, died 23 Nov 1931 in Tacoma, Pierce, Washington)
I might have dismissed this as an unrelated Fritz family. I know my third great grandfather Benedict's brothers were Christian and Joseph. I have found no records of Joseph, up through his murder supposedly in 1884. Yet I had no reason to think anything of this W.D. Fritz.
Except one thing stood out.
I know Benedict's son George W. Fritz moved to Washington with Birdie after they married. Their daughter and son were born in Washington. George sold sewing machines in Tacoma in 1895.
How much of a coincidence is it that George Fritz of Iowa and John Harvey Fritz (probably of Iowa) both ended up in Tacoma Washington? George was born in 1866, and John Harvey about 1871, so they were only about five years apart in age. Could they have moved to Washington around the same time?
That's as far as it goes, right? Not quite. John Harvey Fritz had married Ada Michael. And here is from the Saturday, April 6, 1895 issue of the "Tacoma Daily News" newspaper in Tacoma, Washington:
A number of young people met on Thursday evening at the home of Mr. George Fritz, 1022 Tacoma avenue, and agreeably surprised his sister-in-law, Miss Fay Fowler, of Iowa, who is visiting friends in this city. Dancing and cards were indulged in until a late hour, when a dainty repast was served. Those present were the Misses McMillan, Sale, Kachlein, Fowler, Clyde and Edith McMillan, McCallister, Charmberlin; Messrs. Barton, Drum, Dickson, Harburgh, Fitzmaurice, Scott, McMillan, Chamberlin, Schlarb and Michael.
Some of these names I know, including Fowler, McCallister, and Schlarb. But look at that final name: Michael.
I had started to wonder if John Fritz was actually Johann Joseph Fritz. This thought was soon dashed to pieces, however. From 1889 Biographical History of Shelby County, Iowa, pp. 606-607:
JOHN FRITZ, of Jackson Township, is a well-known, early pioneer, having come to Shelby County, Iowa, in 1859. He was born in Butler County, Pennsylvania, September 17, 1828, and is a son of Martin L. and Mary (Hoffman) Fritz, natives of Pennsylvania. Martin L. Fritz was a son of Martin Fritz, a native of Germany, who emigrated to America before the Revolution. Mary Hoffman Fritz was a daughter of Adam Fritz, who served in the Revolutionary war, in which he was wounded; he carried the British lead to his grave. Martin L. Fritz and wife were the parents of ten children who grew to maturity — Joseph, Peter (deceased), Elizabeth, Adam, Nancy (deceased), Silas, Catherine, John, Sarah and Samuel. When John was twelve years of age his parents removed to Owen County, Indiana; the mother died on the journey, and the father survived her four years; so at the age of sixteen John Fritz was left an orphan. He went to Greencastle, Putnam County, Indiana, and there served an apprenticeship of three and a half years at the cabinet-maker's trade. He was married June 1, 1853, in Putnam County, Indiana, to Miss Eliza Ann Dunnington, a native of Woodford County, Kentucky. Her parents were Alexander and Levisa (Sellers) Dunnington, and when she was three years old her father removed to Indiana; her mother died in Kentucky.

When Mr. Fritz came to Shelby County in 1859, he engaged in the carpenter's trade; he helped build the first court house in Harlan, and built many homes, and some of the first school-houses in the county. He lived in Harlan until 1862, when he rented a farm of L. D. Sunderland. His first purchase was forty-eight acres in Bowman's Grove, which he improved and sold in a short time. During the late Rebellion he enlisted October 4, 1863, in the Ninth Iowa Volunteer Infantry, Company H, and served twenty-eight months in the southwestern division. He was honorably discharged and returned to Putnam County, Indiana, where his family had located during the war. There he resided until 1870, when he returned to Shelby County, and in 1873 he bought his present farm which was then wild land. He has placed the land under good cultivation, has erected buildings, has planted a grove and an orchard, and has made numerous improvements. Mr. and Mrs. Fritz have had born to them nine children — Frank F., William D., Ina S., wife of H. B. Madison, of Rock County, Nebraska; Mary L., Edgar, John H. and Fred. Albert died in infancy, and Archie at the age of four and a half years. Mr. Fritz is a Republican. He has served on the school board, as county supervisor in 1874, as township trustee, and as school treasurer for nine years. He is a member of Parian Lodge, No. 321, A. F. & A. M., and of Olivet Chapter, No. 107, R. A. M. He was made a Mason in 1856, in Putnam County, Indiana. Mr. Fritz is among the honored and honorable pioneers of Shelby County.
Turns out they're not related to my family after all. Sometimes coincidences are just that.