Chris Jorgensen was the eldest sibling of my maternal grandfather's mother, making him my great granduncle.
The following notice was printed in the Billings Gazette on June 8th, 1976. I've bolded names of relatives. I've also included a photograph which was probably taken within ten years before his death. There was no photo with the obituary in the newspaper.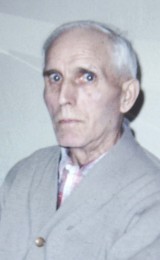 Local and area deaths

Jorgensen

SIDNEY — Services for Chris Jorgensen, 86, of Richland Holmes, will be at 11 a.m. Thursday in Pella Lutheran Church with the Revs. Milan Ingman and Alton Hillesland officiating. Burial will be in the Sidney Cemetery.

Mr. Jorgensen died Sunday in Community Memorial Hospital.

He was born Nov. 16, 1890, in Bindslev, Denmark, a son of Iver and Margrethe Jorgensen. He and two brothers came to Irving, S.D., in 1909.

Mr. Jorgensen had homesteaded in 1912 in the Andes Community and farmed there until 1934 and then farmed southwest of Sidney for 18 years until he moved into Sidney.

He was a member of the Pella Lutheran Church of Sidney, and a former member of the Brorson Lutheran Church.

Survivors include two brothers, John Jorgenson of Chicago and Richard Jorgensen of Cameron, Mo.; two sisters, Mrs. I.J. Peterson Sr., of Sidney and Mrs. Russel Pritchard of Whitewater, Wis.

Fulkerson Funeral Home is in charge of arrangements.