Back when I was starting out, I found the wrong George W. Fritz and family, and added them to my tree. It wasn't that I was missing sources—I had censuses of George before and after marrying Birdie, after all—but rather I was missing the right sources.
Where did I go wrong, and how could I have avoided this? I'd best start from the beginning.
Finding Howard's parents
Following the trail to my great grandfather Howard was easy enough. Thankfully, he died in Texas, so I could find a certificate of death with the names of his parents. (FamilySearch has available Texas certificate of death scans, and they're indexed for easy searching.)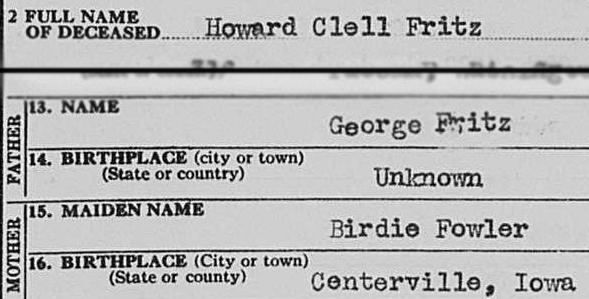 Parents: George Fritz and Birdie Fowler. The certificate also lists Howard's birthplace as Tacoma, Washington, on 1894-11-12.
Searching FamilySearch for a Fritz born in Washington in 1894 turned up no birth index results, but the 1900 US Federal Census has a result for Howard in Appanoose County, Iowa.

Howard (listed by his middle name, Clell, here) is with his mother, Birdie, an older sister named Hazel, and Birdie's mother, Dora Fowler. Both kids are listed as born in Washington, but they're now living in Birdie's hometown, Centerville, Appanoose County, Iowa. Where's George?
Looking for George Fritz
The facts at this point are:
George was born in…unknown. (Howard's certificate of death.)
Birdie was born in Centerville, Iowa. (Howard's certificate of death.)
Hazel (the elder child) was born in Washington, seven years before 1900. (1900 census.)
Howard was born in Tacoma, Washington, in 1894. (Howard's certificate of death.)
Birdie is listed as Married/Divorced in 1900. (1900 census.)
Birdie is listed at age 28 in 1900. To do some guessing, if she married George when she was 16, assuming she has not lied about her age on the census, she would have married him in 1888 at the earliest. Because Hazel was born in about 1892, this narrows the marriage down to likely 1888-1892, probably closer to 1891 (a year before Hazel was born).
The only census options here are 1) the 1890 US Federal Census, except it was lost in a fire; and 2) an 1895 State Census. I didn't find either George or Birdie in the 1895 Iowa State Census, meaning they were likely still in Washington at the time.
Going down the wrong path
Considering Birdie is listed divorced, the next logical step seemed to be to find a George Fritz not living with Birdie in 1900. A man born in Iowa. His father may have been born in Iowa, or else born in Germany, as Fritz is a German name.
This is where I went astray. I found not one, but three people named George Fritz. They were each born in Iowa, but one stood out because his father, George Fritz Senior, was born in Germany. (The mother was Elizabeth Kessler.) I latched on to this George Fritz (Junior) as Birdie's husband, and took in information on his sister and her family and more.
Some time passed, and my attention eventually turned to Birdie Fowler's family. I couldn't find anything on her parents until I happened upon FamilySearch's Iowa Marriages index, and found George and Birdie's marriage:
groom's name: G.W. Fritz
groom's birthplace: Blakesburg
bride's name: Birdie Fowler
bride's birthplace: Centerville
marriage date: 18 Jun 1891
marriage place: Ottumwa
groom's father's name: B. Fritz
groom's mother's name: Annie Miller
bride's father's name: Al Fowler
bride's mother's name: Doe Lane
There was no doubt that this was George Fritz and Birdie Fowler. But who are these parents? This father is not George Fritz Sr. This mother is not Elizabeth Kessler! I … had nurtured a large branch on my family tree only find it was part of another tree, and not my own.
I had to cut that branch away, and start over from scratch on George's parents.
How could this have been avoided?
The first problem was to assume George's father was from Germany. As I would later find out, his father, Benedict Fritz, came from Austria, but censuses of Benedict's kids often listed him as from Germany. In this case, the assumption actually did have a chance of helping me find the right George. The problem is I used that assumption as fact when it fit the wrong George I'd found.
The second problem was trying to follow George after he and Birdie separated. I should have instead gone in the other direction and looked for George in 1880.
Clearly the solution was to find the marriage record for George and Birdie. But what if there wasn't one? Where should I have gone next?
Looking back on George
Without knowing where George was born, my starting guesses would be Washington, the birthplace of his children, and Iowa, the birthplace of his wife. Since Birdie lived in Iowa before marrying George, and returned there after they separated, Birdie's home county of Appanoose, Iowa would be a good place to begin. (I love the detective aspect of genealogy.)
Ancestry.com has a great feature when searching where you can input a location and have it search for adjacent counties.
A search on Ancestry for…
Searching for…
Name:George "Fritz"
Birth:"Appanoose County, Iowa, USA" (and nearby counties)
…returned four results, all from the "Iowa, State Census Collection, 1836-1925": Geo Fritz, Wm Fritz, Henry Fritz, and Gertis Fritz. Geo was born about 1867, in Wapello County, Iowa, which is where he lived during this 1885 census.
Checking Geo Fritz, these are the names of the family on the 1885 Iowa State Census: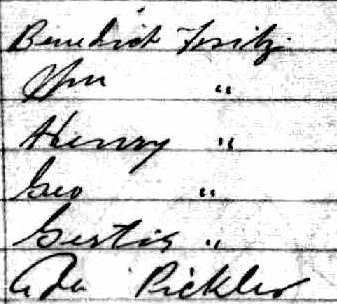 The next step would be to look for more information on this Benedict Fritz, born about 1827 in Austria. You don't want to spent too much time following a potential wrong family unless you're at a huge brick wall.
Three weeks of searching later…
Well, three weeks is a random guess.
Following that Fritz family around a bit leads to a Louisa Fritz, sister of that George Fritz. She married Moses Abernathy. Moses and Louisa appear on the 1880 US Federal Census with a Douglas Fowler in their home. This is a big lead, but the amount of research required to reach this point may be too great to risk this being another wrong George Fritz.
Continuing, though, researching Douglas to the 1860 US Federal Census shows he had four brothers, including one named Allan.
A FamilySearch search for Dora Lane married to a man named Fowler turns up:
name: Allen Fowler
event: Marriage
event date: 27 Sep 1870
event place: Appanoose, Iowa, United States
age: 25
estimated birth year: 1845
spouse: Dora Lane
spouse's age: 18
spouse's estimated birth year: 1852
This is still circumstantial evidence, but highly links Birdie's family to this George Fritz's family. Drawing conclusions based on the facts and evidence is a vital part of a genealogist's work, but there's plenty of research left to confirm anything.
All the research on that Fritz family up to this point would have been on the belief that it might be the wrong family, as had already happened once with George Fritz. Had I found the marriage information on George and Birdie, I would have been reading up on the Fritz family with confidence that I had the right people.
Tips to keep on track
Why didn't I find the marriage listing for George and Birdie sooner? Probably because I did a search for "George" Fritz, and he's listed as "G. W. Fritz".
The following tips could have saved me from going down the wrong path:
When searching for marriage information, focus on surnames.
Since Birdie Fowler is likely an uncommon name, search for marriages for her specifically.
Since George is a common name, be more critical of any George Fritz I found.
When not positive about found person, confirm they are the right person before adding their family to my tree.