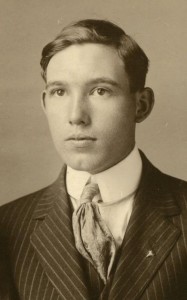 Today I worked on the chapter for Carl Beebe (shown right) in my Fritz family history book. Carl Beebe was the son of Rebecca Fritz.
At one point, I had written down Carl's wife's name as Eva M. Beebe. Today I learned that this was the wife of a Carroll A. Beebe.
So, did Carl even marry? I lost track of him after the 1915 census, except that he was in the US Navy from 1917 through 1919.
I found today the following from in the "Anita Tribune" in Anita, Iowa, dated the 9th of June, 1921:
"Carl W. Beebe and wife of New York have been visiting the past week in Wiota with his parents, Frank Beebe and wife. Carl was working in Anita when the United States entered the world war in 1917, leaving here in April of that year to join the navy."
When Carl joined the US Navy, he was eventually was stationed in New York. Apparently he settled down there after the war was over. (Note that the middle initial here does not match the expected Carl F.; however, his father's name and home of Anita and date range for entering the war all match up.)
Next I found the following in the "Atlantic News Telegraph" paper in Atlantic, Iowa from the 29th of March, 1922:
"Mr. and Mrs. Frank Beebe have returned from Omaha where they were on account of the illness of their daughter-in-law, Mrs. Carl Beebe. Mr. and Mrs. Carl Beebe are the parents of a new daughter."
Carl had a wife by 1921, and they had a daughter in 1922.
This information has allowed me to find census information for Carl following his navy years.
Carl in 1920
Iowa-native Carl F. Beebe (parents from Iowa) and Mary Beebe of New York (father from Ireland, mother New York) are lodgers. That sounds about right for a man who's been out of the navy for a year, and has a wife.
Carl and Mary are listed as lodgers, but the information about her parents fit the people they are living with:
John Mcdoritt, age 53, born in Ireland
Joesphine Mcdoritt, age 53, born in New York
Could these be Mary's parents?
Carl in 1930
Here, Carl Beebe is listed as being from Iowa with parents from Ohio. I don't know how someone got that wrong when talking with the census person. And Mary went from being two years older than Carl to being the same age.
They have a son, Frank Beebe, and a daughter, Charlotte Beebe. Charlotte is eight years old, and 1930 minus 8 means she was born in 1922! And she was born in Nebraska. These match the newspaper article's mention of Carl's daughter being born in Omaha (Nebraska) in 1922. Further, Frank is the name of Carl's father (Franklin Willis Beebe).
Living with them is a Eugene Kevlin and his son, Thomas. There is no indication of Eugene's wife, but Eugene is listed as a "brother-in-law". In what way is he an in-law?
The first possibility is that Eugene married Carl's only sister, his elder sister Ellen Elizabeth Beebe. Ellen had previously married a man named named William Roy Johnson in 1906 (and had a son with him, Roy William Johnson). I do not know what became of Ellen, so it's possible she could have re-married. Thomas was born about the year 1926, when Ellen was about 43 years old, so that is not a likely possibility.
The second possibility is that Eugene is Mary's brother. This goes against the idea of that Mary's parents are the couple she and Carl lived with in 1920's. Eugene's parents are both listed as both being born in Ireland, but the same is true for Mary's parents, to complicate things for genealogists.
These two possibilities suggest that Eugene is Carl's brother-in-law. Another possibility is that he is Mary's brother-in-law. This suggests Mary has a sister, and Eugene married Mary's sister.
Carl in 1940
And then 1940:
This time daughter Charlotte is listed more specifically as being born in Omaha (Nebraska), same place mentioned in the newspaper clip that notes her birth. And son Frank's name is written out as Francis, which is different from his father being Franklin.
With these newspaper clippings and these censuses, the Fritz family tree's Beebe branch has sprouted a few new leaves.